FOR IMMEDIATE RELEASE
Date: May 20 2020

Contact: Jon Ebelt, Public Information Officer, DPHHS, (406) 444-0936, (406) 461-3757, jebelt@mt.gov
                Chuck Council, Communications Specialist, DPHHS, (406) 444-4391, (406) 461-8367, hcouncil@mt.gov
---
New Logo Announced for Southwest Montana Veterans Home
Facility scheduled for completion by end of September
Department of Public Health and Human Services (DPHHS) Director Sheila Hogan announced today the Southwest Montana Veterans Home (SWMVH) is on track to be completed by the end of September 2020 with a grand opening planned for Veterans Day.
And, when the facility opens it'll have a new facility logo thanks to the efforts of Butte native and U.S. Marine Corps Veteran Lyndsay Alt.
"The project continues to move forward, and in just a few short months will be available to Montana Veterans," Director Hogan said. "Congratulations to Lyndsay for creating a fantastic logo as a wonderful representation of the new facility and all it stands for."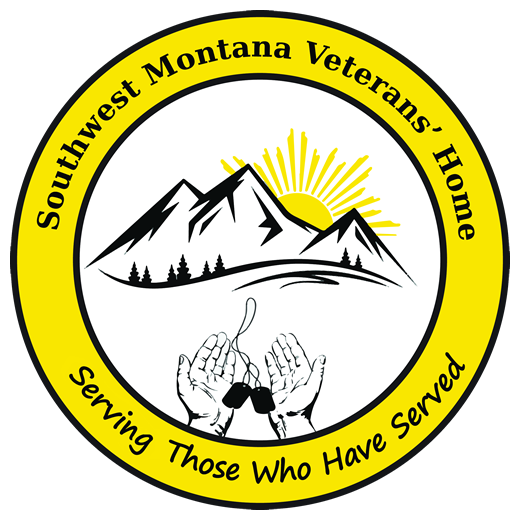 In February 2020, DPHHS asked Montanans to help design a new logo. Members of the SWMVH Foundation selected the winning design submitted by applicants across the state.
Alt described the inspiration behind the new logo design in her contest application:  
"I used the sun to signify warmth during the sunset of the Veterans' lives. The mountains, trees, and streams are for Southwest Montana. The hands outstretched and open let each veteran know they are not alone. Lastly, the indented dog tags symbolize what every Veteran, no matter the branch, rank, age, or gender is issued."
Alt will receive a plaque with the logo, designating her as the designer and a duplicate will be permanently displayed in the facility's Community Center. She will officially be recognized at the grand opening ceremony later this year.
The approximately $20 million facility is being constructed on a 10-acre site on Blacktail Loop, just south of Mount Highland Drive. The facility will include five, 12-bedroom cottages along with a Community Center building and will have room for 60 veterans.
DPHHS is accepting applications for admission to the facility. The application form can be found online. Applications can be submitted to Shaunda Hildebrand of the DPHHS Senior and Long Term Care Division at PO Box 4210, Helena, MT 59604.
Hogan encourages Montanans interested to submit an application. She said 33 applications have been submitted thus far. "We invite Montana Veterans who are interested in living at the Southwest Montana Veterans home to submit their application," Hogan said. "It's exciting to see the progress being made at the construction site, and we're looking forward to the day the facility is able to begin serving residents."
The new facility will offer many services for its residents, including an activities program, spiritual resources, support groups, and social services. Rehab services will also be provided, including physical therapy, occupational therapy, respiratory therapy and dietitian services.
At this time, the Community Center is near completion, and the five cottages are in various stages of construction.
A contractor to operate the facility will be hired in the coming months. Hogan expects residents to begin moving in by late October.
Photos, drone videos, and detailed construction updates showing the progress are posted regularly online.