The Montana Asthma home visiting Program (MAP)
The Montana Asthma home visiting Program (MAP) provides free asthma education for people of all ages with uncontrolled asthma. Examples of topics covered in the curriculum are what asthma is, how to control your asthma, and how to avoid asthma triggers. The curriculum was developed based on medical guidelines and research from the Centers of Disease Control and Prevention (CDC).

Learn more about the program below or contact program coordinator, BJ Biskupiak, at wbiskupiak@mt.gov for more information. 
Scroll down to see where MAP sites are located and who is eligible to participate.
---
Where are MAP sites located?
Currently, MAP services are available through the health departments in:
These 10 sites cover 24 counties, many visible in blue on the MAP below.
Click the map to learn about programs in your area to address many chronic health conditions, such as arthritis, diabetes, and pre-diabetes.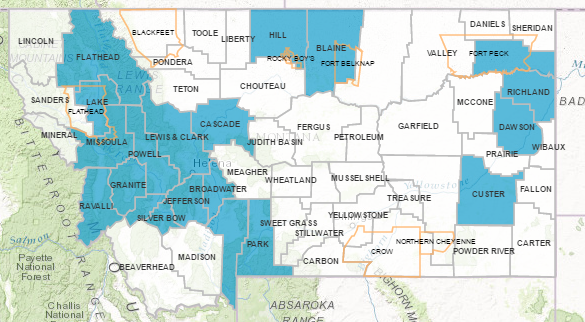 ---
Who is eligible for the program?
Any individual with a current asthma diagnosis within a service area who has had either:
an emergency department visit, hospitalization, or unscheduled medical office visit for asthma OR
an Asthma Control Test score of less than 20 in the last year.
*Individuals with asthma who do not meet these requirements are still eligible for MAP with a direct referral from their healthcare provider.
Complete this referral form and then send it to the asthma home visitor in your area. This brochure has contact information for all 10 sites.
---
MAP Expansion
The Montana Asthma Control Program (MACP) is excited to announce that funding is available to support the addition of a new Montana Asthma Home Visiting Program (MAP) site. Coordinated chronic disease contractors with no MAP sites currently operating in their region are eligible to pursue MAP funding. Please see the funding application and program scope of work for additional details. 
MAP Contractor Application
MAP Abbreviated FY22 Scope of Work
All applications are due no later than November 30, 2021 (must be received by close of business). Anticipated notification of award: By December 10, 2021. 
If you have any questions, please contact BJ Biskupiak at 444-0995 or wbiskupiak@mt.gov.