Montana Chemical Dependency Center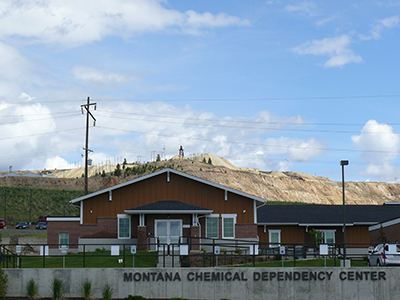 MCDC provides intensive in-patient treatment that cares for the disease of addiction including withdrawal management for substance use disorders and treatment for co-occurring mental health disease.
MCDC provides the highest level or most intense level of treatment for addictions in the health care continuum funded by the state of Montana.
MCDC engages with all community partners who provide and support addiction and recovery services to continue the life long journey of recovery.
Interdisciplinary teams composed of physicians, nurses, treatment technicians, addiction counselors, mental health therapists, care managers, and administrative staff.
MCDC has 16 treatment beds for men, 16 treatment beds for women and 16 beds for withdrawal management.
MCDC Follows ASAM (American Society of Addiction Medicine Guidelines) for a 3.5 and 3.7 level of treatment.
*MCDC Does not take Walk-in patients. All patients are referred from an outside provider who is a Licensed Addictions Counselor (LAC) and must go through the application process.
Montana Chemical Dependency Center
525 E. Mercury
Butte MT 59701
(406) 496-5400
Shannon LaTray - Administrator
Fax numbers:
Admissions (406) 496-5437
Medical Records (406) 496-5431