Montana's Healthcare Plan
HELP (also known as Medicaid Expansion) Members
HELP Medicaid Plan, also known as Medicaid Expansion
HELP Medicaid Plan members, also known as Medicaid Expansion will now receive health coverage through Montana Medicaid.  You do not need to reapply, your coverage will be transferred automatically. 
You will receive a new Montana Medicaid card to use beginning January 1, 2018.
Your card will look like the Montana Medicaid card below.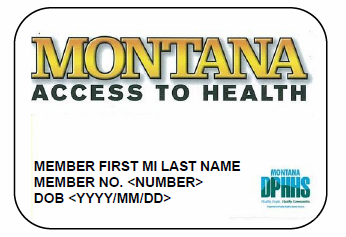 What about my benefits?
Your benefits will stay the same.
Please see Standard Medicaid for your benefit information.
What about my providers?
You can get health services from any doctor, clinic, or other health care provider who accepts Montana Medicaid.  Nearly all of the providers will remain the same and some additional providers will be available to you.
You can find a list of over 11,500 Montana Medicaid providers using the provider finder, or by calling the Medicaid Member Hotline at 1-800-362-8312.
If your provider would like to be added to this list, have them contact Provider Relations at 1-800-624-3958.
Will I still have to pay a monthly premium?
You are still responsible for your monthly premium and may be disenrolled from the HELP Medicaid plan, also known at Medicaid Expansion, if you do not pay your premium.  It is due on the first of each month and should be submitted to the address below or online.
Montana HELP/Medicaid Expansion Program
State of Montana
PO Box 35154
Seattle, WA 98124-5154
See the HELP Plan, also known as Medicaid Expansion, Premium page for additional information.
Integrity Fee
The Integrity fee is a monthly fee that certain participants of the Montana Health and Economic Livelihood Partnership (HELP) program must pay in addition to their premiums.  If you are enrolled in the program, you are required to pay this fee if your equity in real property and/or improvements, or your equity in vehicles, or the taxable value of agricultural land you own, is above a certain limit.  For more information, visit MTRevenue.gov/integrity-fee or call (406) 444-6900.
Do I still have copayments?
For all claims paid on or after January 1, 2020, there will be no copayment charge. This change applies to any covered service under Montana Medicaid or Medicaid Expansion.
Claims paid in 2019, may have a copayment charge. You are responsible for any copayment charges from 2019.
If you receive a bill for copayment charges you believe may be in error, contact the Medicaid/HMK Plus Member HelpLine at 1 (800) 362-8312.
See Montana Medicaid for additional copayment details.
What about Wellness Programs?
Community Based Wellness Programs:
Montana Living Life Well Program
Diabetes Self-Management Education
Asthma Self-Management Education
Arthritis Foundation Exercise Program
Walk with Ease Program
Diabetes Prevention Program
Montana Tobacco Quit Line
What if I have more questions?
Additional information about Montana Medicaid can be found on the Medicaid page or by calling the Member HELP Line at 1-800-362-8312.
| | |
| --- | --- |
| | Contact your local Job Service Office to enroll in HELP-Link, the HELP Plan Medicaid workforce program |