FOR IMMEDIATE RELEASE
Date: December 21 2021

Contact: Jon Ebelt, Public Information Officer, DPHHS, (406) 444-0936, (406) 461-3757; jebelt@mt.gov
                Chuck Council, Communications Specialist, DPHHS, (406) 444-4391, (406) 461-8367; hcouncil@mt.gov
DPHHS Announces $3.7 Million Investment to Help Montanans with Significant Medical Needs
The Montana Department of Public Health and Human Services (DPHHS) announced today an investment of $3.7 million over the next 18 months to provide a financial boost to over 1,300 Montana Medicaid recipients with significant medical needs.
"This investment puts money back in the pockets of over 1,000 vulnerable Montanans with challenging health care needs," Governor Greg Gianforte said. "This will not only help these individuals with their health care costs but will also ease everyday living expenses for those who need it most."
Montanans who will benefit are part of the state's Medically Needy Program. The program allows coverage for the aged, blind, disabled, pregnant women, and children whose income exceeds the income limits of Medicaid, but have significant medical expenses.
Through the Medically Needy Program, these individuals can qualify for Medicaid benefits through a process known as "spend down." Individuals can "spend down" their income either through paid medical expenses, a cash payment to DPHHS, or a combination of the two. Remaining income then meets Medicaid eligibility standards.
DPHHS Director Adam Meier explains that today's announcement will increase the income eligibility limit by $169 per month – from $100 to $269 – for individuals who qualify for the program. The change is effective January 1, 2022.  "This increase will lower the amount these individuals will have to spend to cover their monthly contributions and will thus free up more money for basic everyday necessities," he said.
Meier said this type of adjustment hasn't occurred for 15 years.
The 2021 Montana Legislature allocated $2.8 million for the spend down change. The Department is also leveraging state savings resulting from enhanced federal match for Medicaid – provided through the American Rescue Plan Act – to ensure even more impact to eligible Montanans.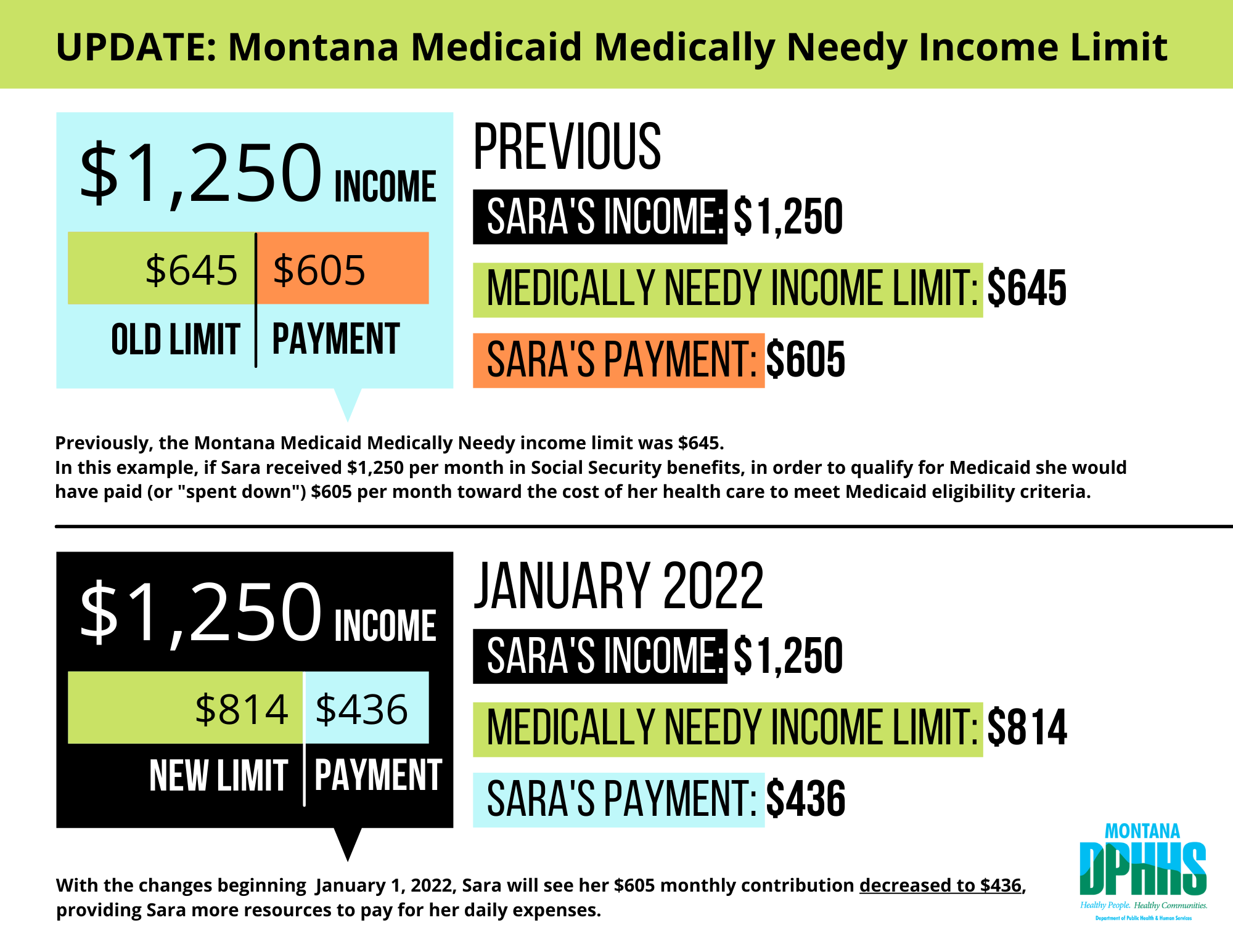 Example: Previously, the Montana Medicaid Medically Needy income limit was $645. In this example, if Sara received $1,250 per month in Social Security benefits, in order to qualify for Medicaid she would have paid (or spent down) $605 per month toward the cost of her health care to meet Medicaid eligibility criteria. $1,250 total income, minus $645 for the previous Montana Medicaid medically needy income limit left Sara with a payment of $605. With the changes beginning January 1, 2022, Sara will see her $605 monthly contribution decreased to $436, providing Sara more resources to pay for her daily expenses. $1,250 total income, minus $814 for the new Montana Medicaid medically needy income limit leaves Sara with a payment of $436.