Injury Prevention Program
Injuries are the Leading Cause of Death for Montanans Ages 1 - 44
Montana leads the nation with one of the highest rates of injury death and injury is the leading cause of death for Montanans age 1-44. On average each year, approximately 850 Montanans die from an injury.  Death only represents a small number of injuries occurring each year.  There are also many hospitalizations, emergency department and physician visits resulting from injury. For some, an injury is a temporary inconvenience while for others it leads to disability, chronic pain, significant changes in lifestyle, and death.  The financial and quality of life costs due to injuries could be reduced in Montana through effective prevention efforts.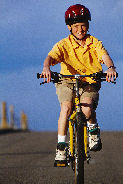 Injury Prevention Starts…All Around Us
It only takes a moment for an injury to occur – a fall on a stair, a poisoning or burn, a drowning in an unsupervised water area, or a motor vehicle crash. But it also just takes a moment to prevent injuries and make our lives, workplace, homes and communities safer places. Injuries are not "accidents" and with simple steps we can stop them before they happen.
Though it's not something people typically think about or plan for, the potential for injury is all around us. Each year, nearly 800 Montanans die from injuries, and another 8,600 are hurt seriously enough to be admitted to a hospital. We are all at risk for injuries, even at home and while engaging in daily activities. In addition, violence and maltreatment affect people of all ages. April 4-8, 2011 is American Public Health week, dedicated to raise awareness about injury prevention, improve the safety of our communities and help Montanans live safer, injury-free lives.
Did You Know?
Injuries are the leading cause of death for Montanans ages 1 to 44.
Nearly half of all unintentional injury mortality and morbidity in Montana are due to motor vehicle crashes. Lack of seat belt use and impaired driving are leading contributors to the high number of motor vehicle–related injuries and death.
Falls are the leading cause of injury death among those ages 65 and older in MT. Half of all deaths due to falls occur in the home.
Nearly 900 people are hospitalized each year due to a traumatic brain injury (TBI) in Montana. Motor vehicle crashes, falls and suicide are the leading causes of TBI.
Unintentional poisoning has emerged as a major health issue making it the third leading cause of unintentional injury in Montana. The most common cause of unintentional poisoning is overdose of prescription medications (narcotics & hallucinogens).
Take Action – In the Home
Assess your home for potential hazards such as poor lighting and uneven surfaces to prevent falls.
Install and maintain smoke alarms and carbon monoxide detectors in your home.
Supervise young children whenever they're near cooking surfaces and never leave food unattended on the stove and make sure all electrical outlets are covered and inaccessible to children.
Program emergency numbers, such as the Poison Control Hotline (1-800-222-1222), into your phone to call in the event of a poisoning emergency.
Take prescription medications as directed and keep all prescription medicines (especially opioid pain medications, such as those containing methadone, hydrocodone, or oxycodone), over-the-counter medicines (including pain or fever relievers and cough and cold medicines), vitamins and herbals in a safe place that can only be reached by people who take or give them.
Store cleaning supplies and medicines in locked cabinets out of the reach of children.
Check your hot water heater periodically and adjust the thermostat to 120 degrees Fahrenheit or lower to avoid burns.
Take Action – At Work (Employers)...
Understand and follow all workplace safety regulations and best practices. Go beyond the minimum required by the Occupational Safety and Health Administration.
Educate employees about workplace regulations and train employees to recognize unsafe or unhealthy settings. Create an employee reporting system to allow workers to report hazardous working conditions.
Provide required or recommended protective equipment and reflective gear to reduce employee exposure to hazards. Support implementing policies that require employees to wear a seat belt use when riding or driving in all company vehicles.
Create safe work environments by identifying and fixing workplace hazards such as unstable surfaces and malfunctioning vehicles.
Conduct personal safety training programs that teach employees how to recognize, avoid or diffuse potentially violent workplace situations.
Take Action - At Work (Employees)…
Wear all personal protective equipment (i.e. seat belts in company vehicles, protective clothing, eyewear, hard hats) that are required or recommended for your occupation.
Participate in worksite safety trainings programs and follow all workplace laws and safety rules.
Ensure vision is not obstructed when operating heavy machinery.
Use your rights to advocate for safety and health.
Take Action – At Play
Wear a helmet and other properly fitted protective gear while playing sports or recreating.
Have a physical before starting a new sport and warm-up each time before beginning.
Teach children how to swim and wear life jackets when recreating in or on open water.
Monitor children while they are at play to ensure safety.
Become familiar with the signs and symptoms of a concussion and check with a medical provider before returning a young athlete who may have had a concussion to play.
Take Action – On the Move
Wear a seat belt on every trip, no matter how short.
Make sure children are buckled up in a child safety seat, booster seat or seat belt.
Be mindful of the environment and be cautious when crossing the road. Use sidewalks and avoid jaywalking, walk facing traffic and make yourself visible when walking at night.
Wear a helmet and reflective gear when on a bike, skateboard, ATV or other motor vehicle.
Avoid texting, eating, using the phone or engaging in other distractions while driving.
Be a designated driver. Don't drink and drive, let others drink and drive, or get into a vehicle with someone who has been drinking.
Discuss your rules of the road and ask your teen to always wear a seat belt, avoid speeding, texting and having multiple passengers while driving.
Take Action – In the Community
Join your Neighborhood Watch program.
Work with school leaders to implement school violence and bullying prevention programs.
Keep firearms in a locked and safe place, away from children.
Model respectful communication in your interactions with children, family members and in the community.
Call the police or local child protective services if you suspect an older adult has been abused or a child neglected.