Why Data? Epidemiology and Evaluation
---
The Montana Diabetes Program (MDP) collects, analyzes and reports data from many different sources to help the people of Montana understand the complexities of prediabetes and diabetes and make the best decisions for their health. Staff with a variety of expertise help with this work using skills from many different disciplines: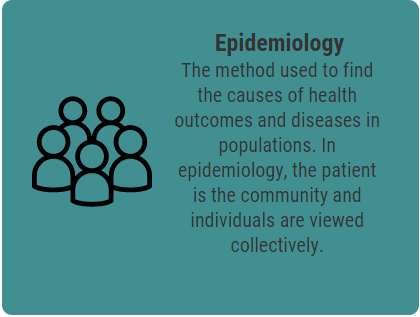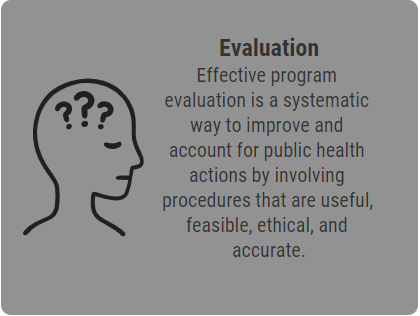 Public Health Terminology
Public Health Terminology

| | |
| --- | --- |
| ADJUSTED MORTALITY RATE | A mortality rate statistically modified to eliminate the effect of different age distributions in the different populations. |
| BIAS | Deviation of results or inferences from the truth, or processes leading to such systematic deviation. Any trend in the collection, analysis, interpretation, publication, or review of data that can lead to conclusions that are systematically different from the truth. |
| CONFIDENCE INTERVAL | A range of values for a variable of interest, e.g., a rate, constructed so that this range has a specified probability of including the true value of variable. The specified probability is called the confidence level, and the end points of the confidence interval are called the confidence limits. |
| INCIDENCE RATE | A measure of the frequency with which an event, such as a new case of illness, occurs in a population at risk; the numerator is the number of new cases occurring during a given time period. |
| PREVALENCE | The number of proportion of cases or events or conditions in a given population. |
For additional terms please visit the CDC epidemiology glossary here.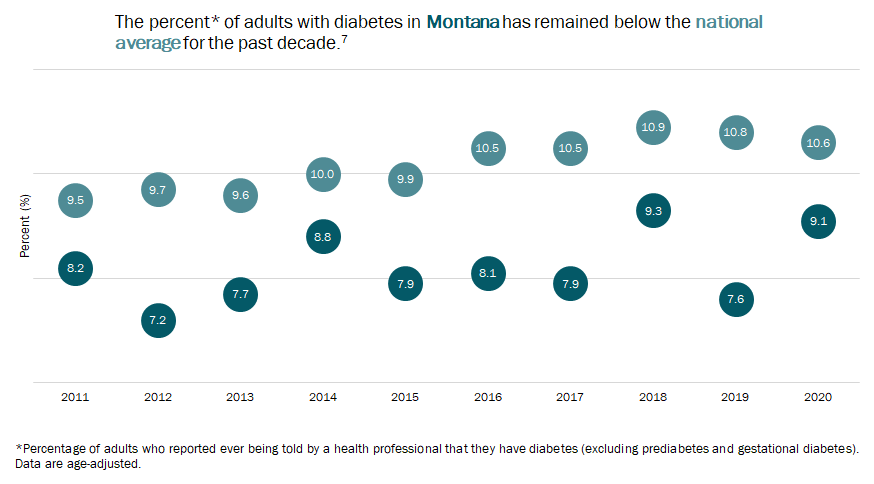 How common is diabetes and prediabetes?
Diabetes
About 64,000 Montana adults currently have diagnosed diabetes. 1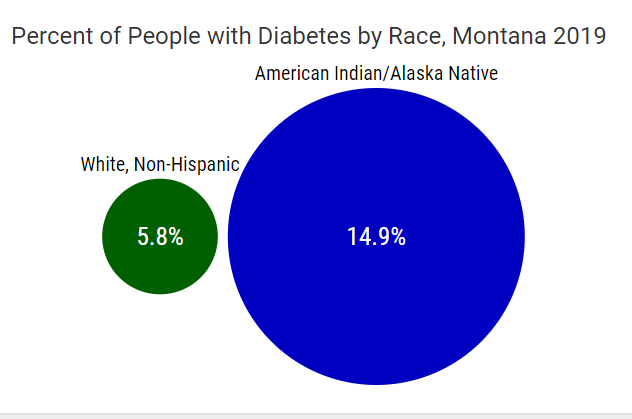 Across the US, the number of people diagnosed with diabetes increased from 1.5 million in 1958 to 26.9 million in 2018. 2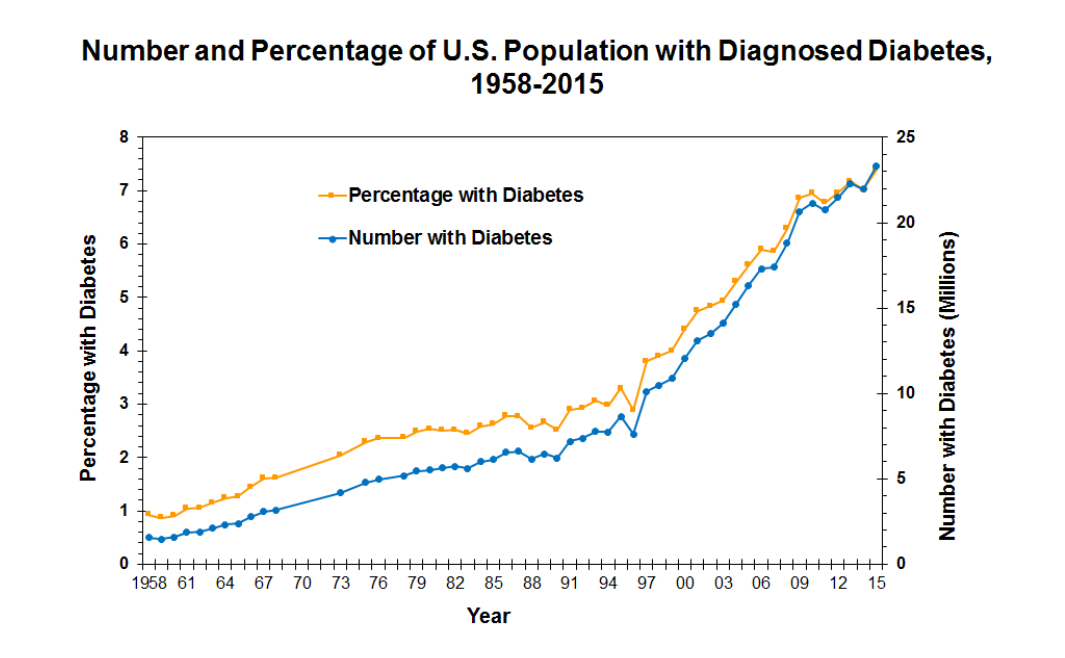 Annual Diabetes in Montana Infographic, 2019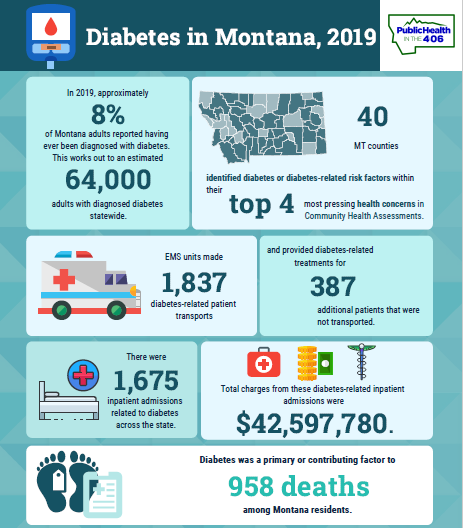 Prediabetes
In 2017, 7.4% of Montana adults reported having prediabetes. 1
Many more adults are estimated to have prediabetes, but not know it. In Montana, it is estimated that over 1 in 3 (37.4%) adults have prediabetes. 3
Across the US, it is estimated that 88 million adults (34.5% of the adult US population) aged 18 years or older have prediabetes. 2
GIS and Spatial Analysis
MDP staff utilizes GIS software and tools such as ArcGIS Pro and ArcGIS Online to create maps and other visualizations with diabetes related datasets.
Story maps: GIS tool to help create stories with text, interactive maps, pictures, and other multimedia content to share with a wide audience.
ArcGIS Hub: Hub allows users to follow our program for updates and it gives them access to free accounts and Geospatial applications they can apply to their own work. Once signed up, users can directly collaborate with the MDP.

Engages and educates people about the important initiatives like preventing and managing:
Where do we get our information about pre-diabetes and diabetes?
The Montana Diabetes Program uses many data sources for diabetes surveillance, evaluation, and decision making. Our goal is to benefit all Montanans by helping to prevent and reduce diabetes complications.  
Check out the list of data sources below. You can also access the   Public Health Data Resource Guide  to learn more. It is important to remember that data sets don't contain information that can identify individuals.
---
Reports
The DPHHS website is being redesigned and will be moved to a new platform in July. 
Please be aware that some bookmarks to the DPHHS site may need to be updated after the move.
Thank you for your patience while we complete this move.
Montana Quick Stats
The Montana Quick Stats provides quick access to statistics with short description on topics related to diabetes.
Surveillance Reports
These reports aim to increase the understanding of data related to diabetes prevention, education, and management as well as provides clinical recommendation to the health care community.
---
Evaluation Reports
These reports are evaluations done by the Montana Diabetes program related to diabetes in Montana. 
Special Reports and Presentations
MDP staff often participate in regional and national conferences and share data related to diabetes and its complications in oral and poster presentations.  These reports and presentation cover variety of topics related to diabetes. Please contact the MDP to inquire about what other data may be available.
---
---
Questions and comments on data, surveillance, and epidemiology can be sent to our   Epidemiologist,   Evaluator,   GIS Analyst, and   Informatics Specialist.