Montana Mother-Friendly Worksites Initiative

Families are healthier when their workplace supports women during pregnancy and while breastfeeding. Mothers are the fastest growing segment of the U.S. labor force with 1/3 of mothers returning to work within three months after birth and approximately two-thirds returning within six months after the baby is born. Breastfeeding support from an employer can help reduce the barriers a mother may encounter when returning to work and help her meet her breastfeeding goals.  And it is good for business!  By meeting a few simple criteria worksites of any type or size can receive Montana Mother-Friendly Worksite recognition.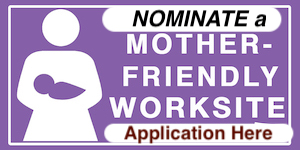 We have staff available to provide technical assistance to help your worksite  with the process of setting up a lactation accommodation program including, creating a breastfeeding support program/policy, setting up a private space and more!
 Contact Terry Miller, Senior Breastfeeding Consultant, at  TMiller6@mt.gov
What is a Mother-Friendly Worksite?
The Montana Mother-Friendly Worksite to Support Breastfeeding Initiative are businesses that proactively support employees who choose to breastfeed their infants.
Creating and implementing a Mother-Friendly policy is both simple and inexpensive.

The most basic Mother-Friendly worksites need only provide:
1) a private space;
2) flexible scheduling for break time;
3) a policy that notes mothers may express and store breast milk for their babies.
The Law
Both Montana and federal law recognize that breastfeeding is good for mom, baby and our communities and mother's have the right to breastfeed in any location, public or private.  Furthermore, workplace accommodation laws allow reasonable break time and a private space for nursing moms to express breast milk.
1. Workplace Breastfeeding Protection
Public employer policy of support of women & breastfeeding
Mont. Code Ann. § 39-2-215 et seq. (2017) specifies that all state and county governments, municipalities, and school districts and the university system employers must not discriminate against breastfeeding mothers and must encourage and accommodate breastfeeding. Requires employers to provide daily-unpaid break time for a mother to express breast milk for her infant child and facilities for storage of the expressed milk. Employers are also required to make a reasonable effort to provide a private location this activity. 

Break Time for Nursing Mother Law, US Department of Labor
US Patient Protection & Affordable Care Act  (2010) amended the Fair Labor Standards Act to require employers to provide a nursing mother a place and reasonable break time to express breast milk after the birth of her child. The following is required: Reasonable time to express breast milk each time it is needed during the day, up to the baby's first birthday, and a place, other than a bathroom, that is private to express breast milk. An employer that employs fewer than 50 employees and proves an undue hardship may be exempt. The employer must apply for exemption through the Department of Labor. Nothing in this law shall preempt a State law that provides greater protections. 
2. General Breastfeeding Protection
Public Breastfeeding
Mont. Code Ann. § 50-19-501 (2017) The Montana legislature states that the breastfeeding of a child in any location, public or private, where the mother otherwise has a right to be is legal and cannot be considered a nuisance, indecent exposure, sexual conduct, or obscenity. (SB 398). 

Breastfeeding Law & Jury Duty 
Mont. Code Ann. § 3-15-313 (2017) specifies that the court may excuse a person from jury service upon finding that it would entail undue hardship for the person; an excuse may be granted if the prospective juror is a breastfeeding mother. 

Montana Bar Exam Breastfeeding Accommodations (Interim) 1. Permission to bring to the exam and store at the testing site necessary medical equipment and supplies, including a breast pump, storage supplies and a cooler. 2. A private or semi-private location with an electrical outlet, if requested,to breastfeed or express breast milk. A semi-private location is defined as one that is located away from other applicants, except other applicants who are also breastfeeding or expressing milk; and 3. Stop-the-clock breaks up to 15 minutes per each three-hour testing period to used solely for the purpose of breastfeeding the infant or breast pumping, if existing breaks are insufficiently frequent for an individual's circumstances.  Such requests may be granted only when the infant is under the age of 12 months at the time of the exam.
Mother-Friendly recognized worksites will receive:
1. Support in building your worksite lactation accommodation program.
2.  A Mother-Friendly Worksite window cling.
3. Official designation certificate to display at facility.
4. Recognition  from the DPHHS Montana Nutrition and Physical Activity Program, on social media, press releases and on this website!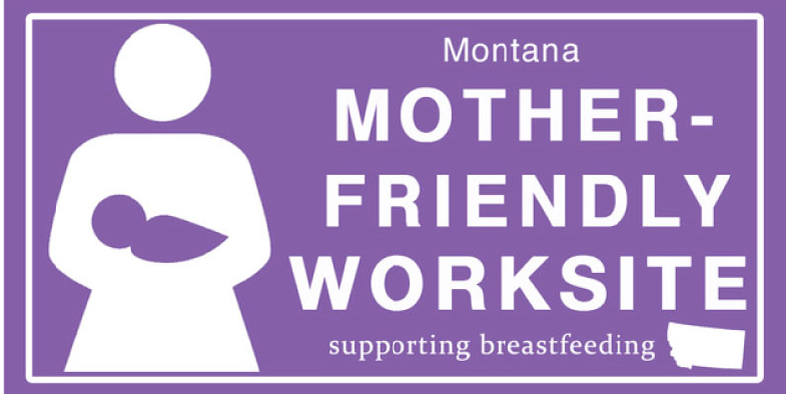 By meeting a few simple criteria, worksites of any type or size can receive Montana Mother-Friendly Worksite to support Breastfeeding designation and be recognized in the  community as being a family friendly place to work and do business. This award acknowledges employers who have implemented breastfeeding friendly practices including having a written breastfeeding support policy and a lactation space to express breast milk.
Becoming a Montana Mother-Friendly workplace is as easy as 3 easy steps and your worksite may already meet the requirements.
1. Provide a written employee policy that covers flexible work schedules including scheduling breaks and work patterns to provide time for expression of milk;
2. Access to a private location(s) that is not a bathroom, for the purpose of milk expression;
3. Access to a nearby clean and safe water source and a sink for washing hands and rinsing out any breast pump equipment.