Cancer
Parents and Families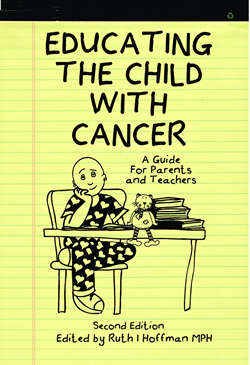 Written by top researchers in the field, and balanced with parents' personal experiences, this 334 page resource focuses on educational issues for children treated for cancer. It is intended to promote understanding and communication between parents, educators and medical professionals so that together they can provide an appropriate education for children who have been treated for cancer which in turn will lead to a productive and rewarding life.
To see additional resources and to order copies of materials you like, visit the   American Childhood Cancer Organization.
Educators-Coaches-School Staff
"We recognize that it is hard to generalize about children's cancer because there are many different types and treatments vary. For example, the duration of treatment times can vary from a single surgery for a child with a benign tumor, to 3 months for some children with lymphoma, to as long as 3 years for those with acute lymphocytic leukemia. The intensity of treatment also varies. Some children are able to attend school while being treated and others need to be in the hospital for treatment and extended recovery. We recommend that you work with the child's parents and, if possible, a member of the child's medical team to develop plans that will meet the needs of the individual child."
Cure Search for Children's Cancer
Trusted National Resources