Natural Disasters
Parents have an important role in assuring the safety of their children whether at school or at home. Parents should teach their children what to do in an emergency and make sure they know their addresses and telephone numbers as well as the full names and contact information for parents and a second adult emergency contact. Teaching your children to be prepared will keep them safe during any future disasters.
In Montana, the Office of Public Instruction (OPI) leads the way on emergency preparedness and safety in schools. To learn more about how your school can prepare for natural disasters, visit the Emergency Planning and Safety page on the OPI's website.  
Wild Fires
The Montana Department of Environmental Quality provides up to date air quality information for communities throughout the state. Tools for schools including Recommendations for Outdoor Activities Based on Air Quality can also be found on the site.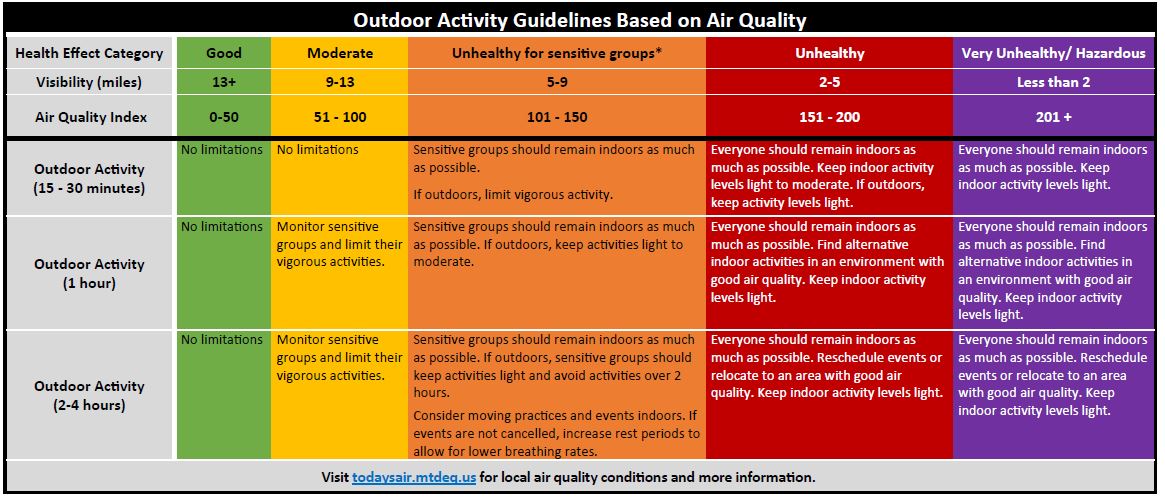 ---
Earthquakes
---
Tornadoes
Teachers
Family
---
Winter Storms
Children can be especially susceptible to the dangers associated with winter weather. Even if they are cold, wet or exhausted they often are not conscious of the potential impact these conditions could pose. School administrators, principals and teachers need to be aware of the dangers posed by winter weather. Emergency plans and procedures must be established or reviewed before the onset of the winter season to ensure children's safety.  
WINTER SAFETY PROCEDURES: Winter safety procedures for schools should include:
A means of receiving current weather information
    -The National Weather Service (NWS) provides this information via NOAA Weather Radio and websites (see listing on page 9)
    -Commercial radio and television also air winter weather conditions
Guidelines for children's outdoor activities
Plans for closures, early dismissal or holding children and staff at school due to snow, ice or extreme cold
Provisions for children who arrive earlier than usual or stay later than usual due to driving conditions parents may encounter
TRANSPORTATION–RELATED CONSIDERATIONS:
Bus driver training for winter conditions
Changes in routes (alternate) during winter conditions
Procedures for altered school schedules
Procedures to deal with stranded buses
A Guide to Developing a Severe Weather Emergency Plan For Schools- National Weather Service 
Winter Storms and Extreme Cold- Ready.gov
---
Floods
Children's Health in the Aftermath of Floods- US Environmental Protection Agency (EPA)
---
Other General Resources
REMS Technical Assistance Center
The REMS TAC supports public and non-public schools, school districts, and institutions of higher education in school emergency management, including the development and implementation of comprehensive all-hazards emergency management plans. The TA Center disseminates information about school emergency management to help individual schools, school districts, and institutions of higher education learn more about developing, implementing, and evaluating comprehensive, all-hazards school emergency management plans.
Disclaimer: Resources on this page are accepted best practices throughout the country and the state of Montana. All school districts have their own emergency policies and procedures. Please consult your school officials for more information about your school's emergency plan.