Montana Medicaid and Healthy Montana Kids (HMK) Plus

In response to the 2020 COVID-19 Public Health Emergency (PHE), Montana DPHHS implemented several temporary changes to Montana Health Care Programs member eligibility and services.  Following recent Federal guidance, the pre-PHE eligibility requirements and processes resumed April 1, 2023.  The PHE ends May 11, 2023.  On May 12, 2023, many of the temporary service changes will also return to the pre-PHE program structure.  For more detailed information on this please review the April 2023 Montana Health Care Programs MESSENGER Newsletter. 
Montana Medicaid and HMK Plus are healthcare benefits for eligible low-income Montanans. Montana Medicaid and HMK Plus pays for services that are:
Medically necessary,
Provided by a Montana Medicaid/HMK Plus enrolled provider, and
Medicaid/HMK Plus covered services.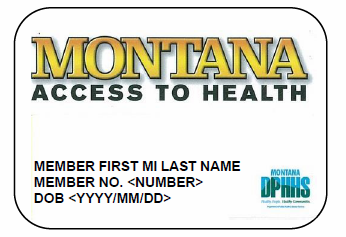 Announcements
Are you eligible?
Montana Medicaid and HMK Plus Member Information
Passport to Health (Passport): Choose your primary care provider
Passport is the primary care case management (PCCM) program for Montana Medicaid and HMK Plus members. The Passport programs support Medicaid and HMK Plus members, as well as providers, to establish a strong doctor/patient relationship and ensure the appropriate use of services.
If you do not choose a Passport provider, you will be assigned one.
If you need help choosing your Passport provider or have questions regarding Passport, call the Medicaid/HMK Plus Member Help Line at 1-800-362-8312, M-F, 8am-5pm.
Remember, you will need a referral (approval) from your Passport provider before you can see most other healthcare providers.
For more Passport information, see the Passport Section of the Member Guide.   

What are the Benefits?
Standard Benefits
Family planning,
Home health services,
Laboratory and x-ray services,
Maternity and newborn care,
Mental health and substance abuse treatment,
Rehabilitative services and supplies,
Speech therapy, audiology, and hearing aids,
Preventative (cleaning, fluoride), and
Anesthesia/sedation services.
 In addition to the benefits above, the following treatment services will also be available, subject to an annual cap of $1,125. Members excluded from this annual cap are: age 20 and under and members categorically aged, blind, or disabled. However, service limits may apply. The benefit year runs from July 1 through June 30. You will have to pay for services that are not covered and for those services that go over the $1,125 dental treatment limit for the following list of treatments:
Restorative (fillings, crowns),
Periodontal (gum disease issues), and
Oral surgery (extractions).
Annual exam every two years, and
Eyeglasses/eyewear every two years (depending on change in the prescription).
Many prescription drugs are covered. Some prescription drugs may need prior authorization. To find out if a drug you need is covered or to find out if a drug needs prior authorization, talk to your pharmacist or the person who prescribed the drug.
Medicaid will pay for a 34-day supply of drugs. Members may get a 90-day supply of some drugs at the time for heart disease, high blood pressure, or birth control. Early refills may be authorized if the person who writes the prescription changes your dose. Early refills cannot be granted for lost or stolen medication, or for vacation or travel.
Prescription drugs are only covered if you go to a Medicaid-enrolled pharmacy.
Member Rights and Responsibilities
Missed or Canceled Appointments
When members do not show up for a scheduled appointment, it creates an unused appointment slot that could have been used for another member. It is very important to keep appointments and call the provider in advance if you cannot make it to a scheduled appointment.  Medicaid providers cannot bill a member for no-show/missed appointments. However, a provider may discharge a member from their practice after so many no-show/missed appointments. The provider must have the same policy for Medicaid members as non-Medicaid members, and must notify Medicaid members that the policy exists.
For a full list of member rights and responsibilities, see the Member Rights and Responsibilities Section of the Member Guide.
Do you still have questions?
Here is a copy of the Montana Healthcare Programs Member Guide. Be sure to check the announcements section above for information on changes to your benefits.
Member Guide effective 3/1/2023
Member Resources
Need help finding your local Office of Public Assistance, Enrolled Medicaid Provider, or Passport Provider? Call Montana Healthcare Programs, Member Help Line 1-800-362-8312, M-F, 8am-5pm, for assistance.
Find a Montana Medicaid Provider.
Find a Montana Medicaid or HMK Plus Dental Provider.
Report a change for your case or apply for healthcare coverage.
View details about your case.
I lost my Medicaid/HMK Plus Card, call 1-888-706-1535 for a replacement. 
Important Contact Numbers
Public Assistance Help Line
Eligibility and reporting changes to your case
1-888-706-1535
Medicaid/HMK Plus, Member Help Line
Medical Benefits, copayments, and Passport to Health questions
1-800-362-8312
Medicaid Transportation Services
Contact the Medicaid Transportation Center
1-800-292-7114