American Indian & MAIWHC
Montana American Indian Women's Health Coalition
*To access information for each region please click the region number.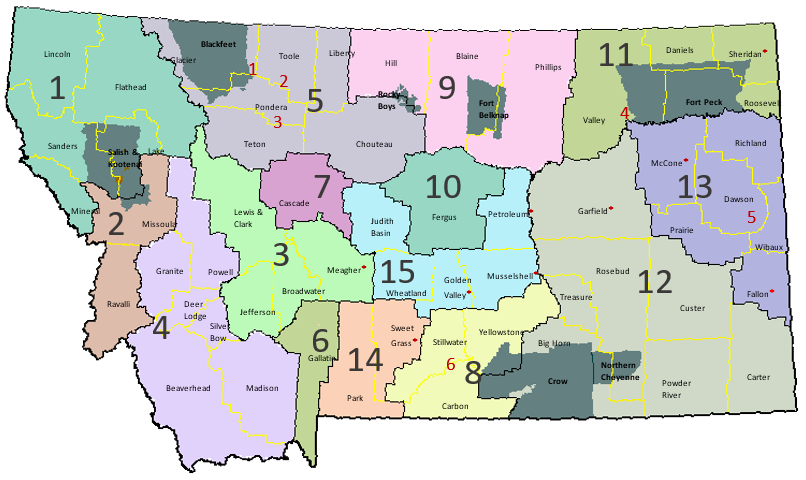 History of American Indian Screening Initiative
The Montana Cancer Control Programs (MCCP) established the American Indian Screening Initiative (AISI) in year 2000 to increase the cancer screening of American Indian women. As part of the AISI, the leadership of the MCCP formerly the Montana Breast and Cervical Health Program initiated the Montana American Indian Women's Health Coalition (MAIWHC), bringing together American Indian women representing Tribal Communities and Tribal Health Systems, Urban Health Programs and Urban Communities. The MAIWHC is a grassroots coalition to assist the MCCP in recruitment and screening of American Indian women for breast and cervical cancer.
The MCCP supports the MAIWHC which meets once a year and was originally convened to address breast and cervical cancer screening in American Indian women. The MAIWHC, while still meeting once a year, now addresses the entire cancer continuum and members are more involved with the Montana Cancer Coalition (MTCC) and the Montana CCC Plan implementation. Cross-culture meetings and trainings have taken place to build trust and establish a productive working environment that is culturally competent and appropriate.
The MAIWHC reaches its target audience of American Indian men and women through educational events, digital storytelling and small media reflective of Montana's tribal cultures. The MCCP regional contractors partner with the MAIWHC members and events to reduce duplication of efforts to reach the American Indian target population. The MCCP contractors provide information on and enrollment forms for the direct screening services available to American Indian women through the MCCP.
To request additional information please contact:

Justin Sell, BA
Health Education Specialist
DPHHS Cancer Control Programs
1400 Broadway C-317
PO Box 202951
Helena, MT 59620-2951
Phone: (406) 444-7858
Fax: (877) 764-7575
E-mail:   justin.sell@mt.gov