Program Toolkit
A Mother-Friendly Worksite to Support Breastfeeding is as easy as 5 simple steps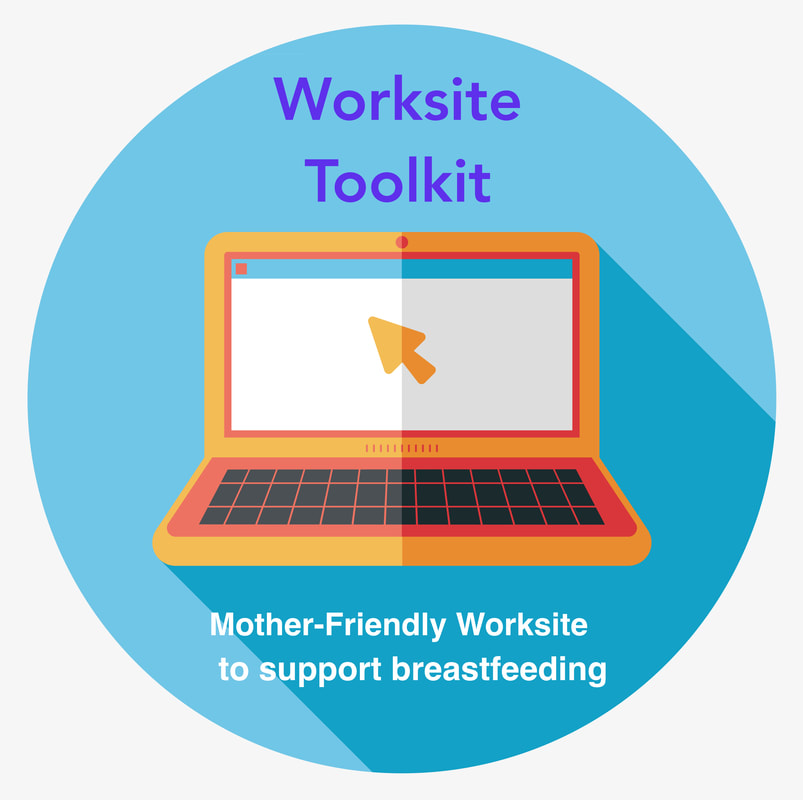 Click here for a printable version of the Mother-Friendly Worksite Toolkit
Three Simple Steps to Setting up a Mother-Friendly Worksite

Step 1: Garner Support
Begin by reaching out to all levels of management to garner support for lactation accommodations.
Form a committee of people who have an interest in the program including health promotions, facilities manager, current and previous breastfeeding and/or parenting employees, and pregnant employees.
Resource:
Step 2: Assess & Develop Policy

When developing your policy keep in mind that employers (with some exemptions) are subject to the Fair Labor Standards Act, and must provide nursing employees with "reasonable" unpaid breaks to express breast milk, for up to one year after the birth of a child. These employers are to provide nursing employees with a private place, other than a bathroom, that is protected from view or intrusion by coworkers or the public.
Next Steps:
Assess how your organization currently supports worksite lactation by evaluating the current population, policies, environments, supports, needs, and constraints.
Develop a  policy that outlines what the employees can expect from the organization and what the organization expects from them.
Policy should include space and time to pump parameters. 
Resources:
Step 3: Implement & Evaluate

Considerations when rolling-out your Mother-Friendly Program:​
Space:

 

Provide employees a private, accessible area, other than a bathroom, that is shielded from view and free from intrusion from coworkers and the public, for either expressing breast milk or breastfeeding each time such employee has need to express breast milk or breastfeed.
Time:

 

Provide work schedule and work pattern flexibility to, at a minimum, accommodate a reasonable break time for an employee to express breast milk for her nursing child or breastfeed each time such employee has need to express the milk or breastfeed for one year or longer after the child's birth.
Promote

 

your worksite lactation program. It helps women in the organization know about the program's existence and offers good public relations value for recruiting and retaining other employees.
Continue to

 

Evaluate

 

the program. The results of the evaluations should be incorporated into future policy revisions and program updates.
Resources:

10 STEP CHECKLIST
Breastfeeding Moms Going Back to Work
During Pregnancy
1. Attend a Prenatal Class:
Register for prenatal & breastfeeding classes available at your birth facility, WIC clinic or healthcare provider office.
2. Know Your Rights:
The Federal Break Time for Nursing Mothers Law & Montana Public Employer Policy on Breastfeeding support your right to pump at the workplace.
3. Prepare: 
Find an affordable breast pump: contact your health insurance, healthcare provider,
Reach out to workplace peers for hints on breastfeeding & returning to work hospital or WIC clinic.
4. Talk with your Employer: 
Talk with your supervisor about your plans to breastfeed.
Determine if there is worksite lactation policy, if not ask about private places to comfortably express breast milk.
First Weeks
5. Skin to Skin: 
Put baby skin to skin after birth and to breast within the first hour.
Room in with baby room at birth facility.
Ask the hospital to teach you hand expression.
6. Breastfeed!: 
Breastfeed 8-12 times per day.
Avoid using bottles or pacifiers in the first 3-4 weeks as this may decrease milk supply. 
Ask for lactation support referrals at discharge.
Before Returning to Work
7. Establish Breastfeeding: 
Take time off of work  to recover from childbirth and establish breastfeeding.
Practice expressing your milk by hand or with a quality breast pump during the day when you have the most milk.
8. Gold Nuggets: 
Once breastfeeding is established offer a bottle of breast milk at least 1 x a week before back to work so your baby can practice using a bottle.
Freeze 1-2 ounces of breast milk at a time to save after your return to work.
Choose a childcare that is supportive of breastfeeding.
Return to work midweek so you will have a shortened work week the first week.
Back at Work
9. First Days Back: 
Be prepared for an emotional week.
Meet with manager to determine a place & time to express breast milk during your shift.
Ask if your workplace would consider other nursing support options including working from home, transitioning gradually from part-time to full-time or job sharing.
10. Workplace Pumping: 
 Express milk during the workday when you would normally feed your baby.
Double pump & use breast massage to increase breast milk output.
Breastfeed before you leave for work and when you return home.
When expressing milk, try looking at a picture of your child or thinking about feeding your child. This may help with your milk letting down
Additional Resources

For Businesses
For Mothers