Lead Testing in School Water Supplies
Among other long standing requirements in the Water Supply System section of the school rule, language was added which requires schools to   test all human consumption fixtures for lead.   Initial samples must be taken by December 31, 2021.
Schools must sample all water fountains and sinks used for food preparation.All other potential human consumption fixtures (HCF) must be sampled, unless the school or school district submits a testing plan to the DEQ to test a representative sample of potential HCFs in the school. Proposed testing plans will be reviewed and approved by the DEQ. All samples must be analyzed by a Montana certified lab using EPA-approved standard drinking water methods for the detection and quantification of lead.
37.111.832 WATER SUPPLY SYSTEM
-Complete Section -
Lead Testing in Schools Information Session
---
The Department of Environmental Quality is partnering with the DPHHS to provide technical assistance and guidance around lead testing in schools. Please visit DEQ's  Lead Testing in Schools Drinking Water Program website for all you need to know about lead testing.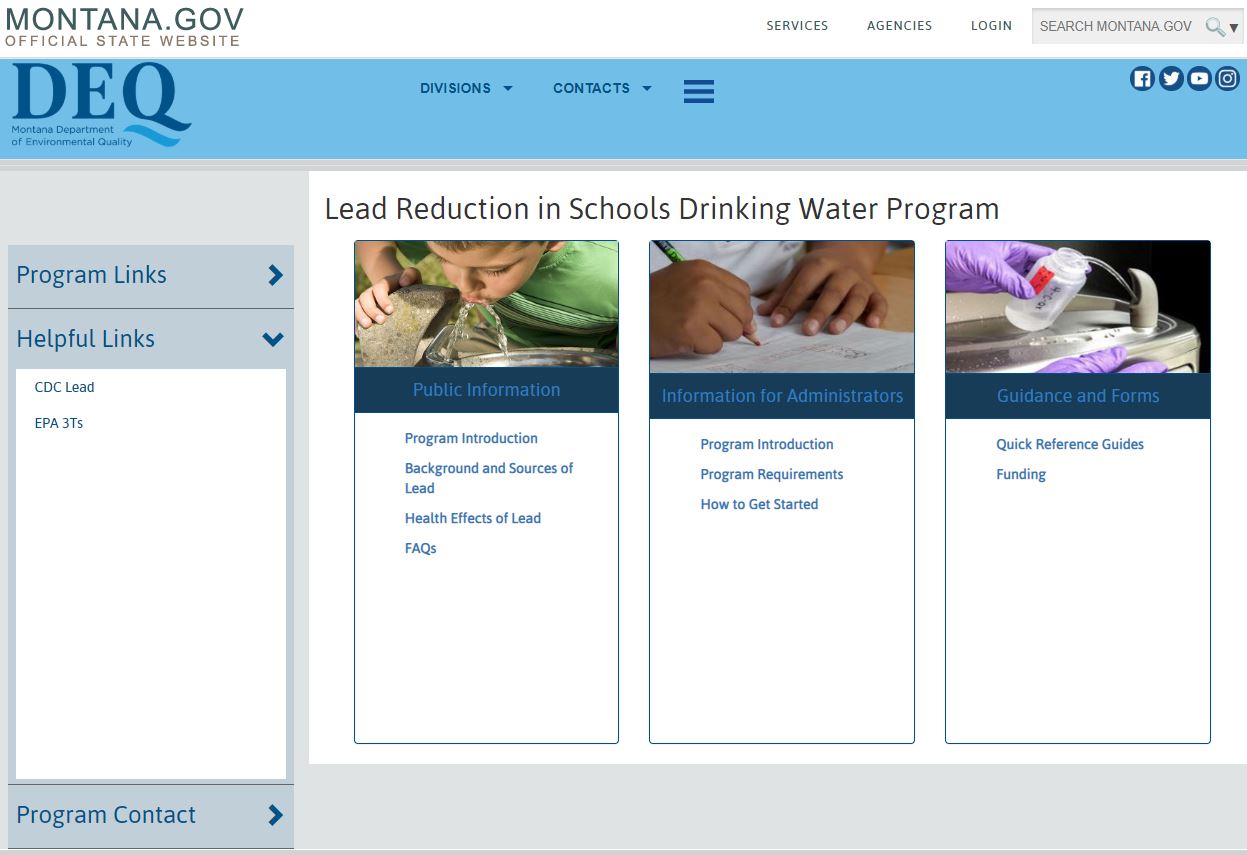 Program Contact Information
Greg Montgomery
Lead in School Drinking Water Rule Manager
406-444-5312
Gregory.Montgomery@mt.gov
Fax 406-444-1374
*For submittal of plans and documents please use:  DEQLEADINSCHOOLS@MT.GOV
Guidance/TA
Approved Forms
Example Policies
County Health Dept. Resources
FAQ
About
---
Key Documents
Official Rules 37.111.8
School Rules: Summary of Changes
---
Important Dates
September 1, 2021
Schools must establish a water flushing program to implement following periods of inactivity (3 or more days).
Beginning   September 1, 2021, schools must have and follow written policies and procedures regarding the storage, administration, and lawful disposal of prescription, nonprescription, and over-the-counter medication.
Schools must develop and implement an approved Integrated Pest Management (IPM) program beginning   September 1, 2021.
December 31, 2021
Initial water samples must be take by December 31, 2021. 
---
Partner Links
DEQ
Montana School Labs Waste Management
Lead Reduction in Schools: Drinking Water Program
Today's Air: Air Quality Monitoring
DPHHS
Communicable Disease Prevention School Resources