Communicable Diseases in Schools
COVID-19 Resources
Returning to School Guidance

Guidance is  based on what is currently known about the transmission and severity of COVID-19 and is updated as needed and as additional information becomes available. The DPHHS Communicable Disease and Epidemiology Section provides more information on disease monitoring and prevention in Montana.  Please visit the Montana DPHHS Coronavirus website for more information. Visit the  DPHHS 2019 Novel Coronavirus website for current information about monitoring and resources in Montana and nationwide.  
Centers for Disease Control and Prevention
The CDC has also released new guidance for schools on COVID-19. This interim guidance is intended primarily for administrators* of public and private childcare programs and K-12 schools in the United States to help prevent the introduction of COVID-19 into their facilities. Interim Guidance for Childcare Programs and K-12 Schools. The guidance is based on what is currently known about the transmission and severity of coronavirus disease 2019 (COVID-19).  Visit the CDC website for more information. 
---
The Montana Immunization Program
The Montana Immunization Program provides on overview of the immunization requirements, forms, and resources needed for children to enroll in childcare facilities and public schools in the state of Montana. Visit the  Childcare and School Resources page of the website for more detailed information.
---
Communicable Disease Guide for Schools
Communicable Disease: A Guide for Schools in Montana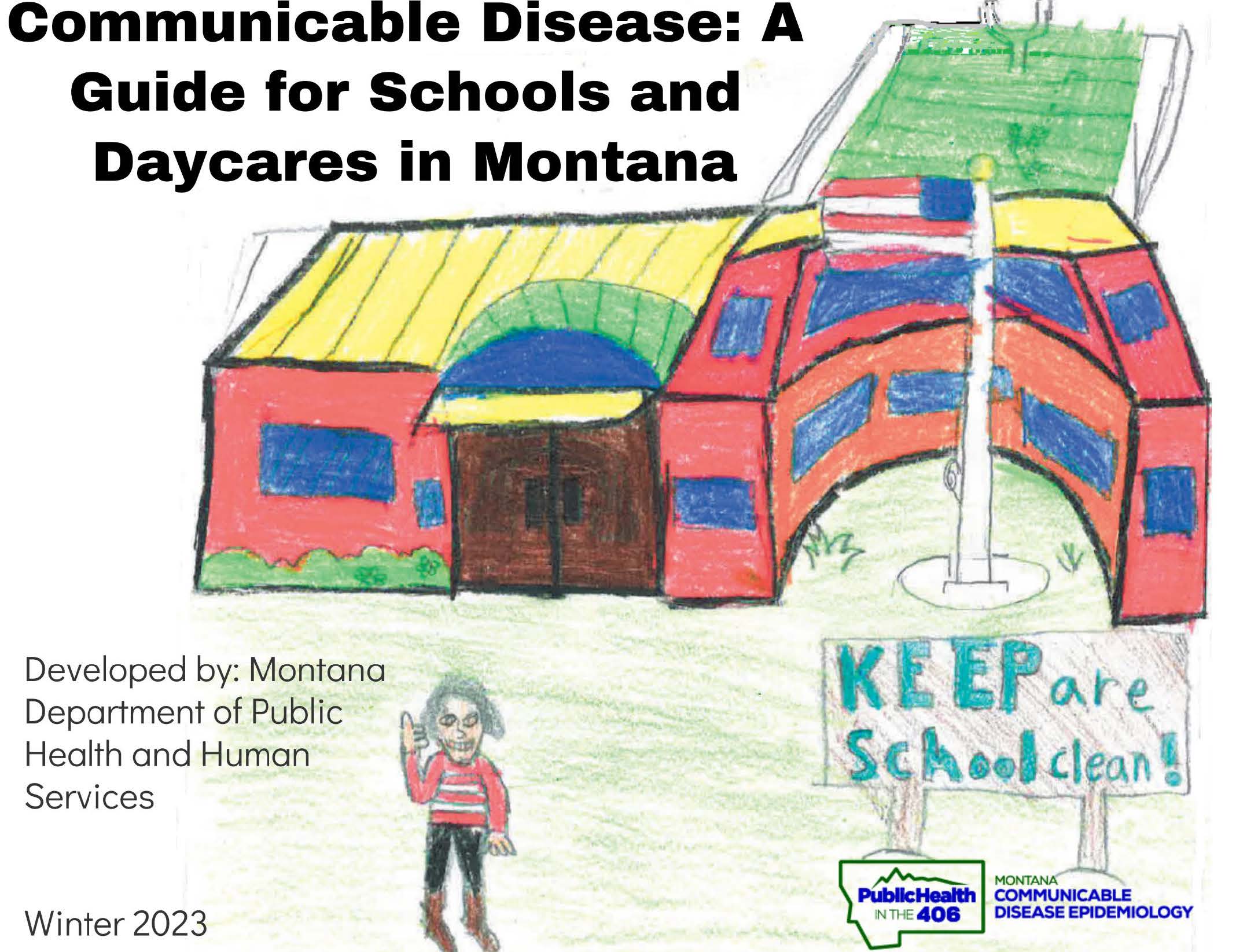 *If you would like a hard copy of this manual, please call CDEpi at (406) 444-0273. 
---
Communicable Disease Resources
---
More information about common diseases you may encounter at your school and how to prevent them:
For more information, please visit the Immunization Program's School Resources page.
---
Remember!
Schools inherently foster the transmission of infections from person to person because they are a group setting in which people are in close contact and share supplies and equipment.
All school districts should:
maintain their vigilance for increasing absenteeism due to respiratory, gastrointestinal or other communicable illnesses.
report any increases in absenteeism rates or suspected outbreaks to your local health department immediately.
collaborate with your local health department. They are there to help with outbreak investigations and can provide education about prevention and control of communicable diseases in schools.
Most Communicable diseases can be prevented by following the steps listed below:
Hand washing: Wash hands with soap and warm water frequently, especially after using the restroom. Give children enough time to properly wash their hands. ( single

 

most important factor)

Handwashing: Clean Hands Save Lives- This CDC resource page includes educational and promotional materials as well as current news and links to partner organizations working to improve basic hygiene practices.

Stay home when ill: Strongly suggest that ill children and staff stay home when ill. Avoid close contact with others during the infectious period. Consult with ARM or local public health for guidance.
Education: Be informed about signs, symptoms and prevention of diseases. Share information with students and parents. Learning

 

how

 

diseases are transmitted can help to actively

 

prevent

 

the spread of disease.
Disinfect surfaces: Clean and disinfect surfaces or objects. Focus especially on frequently touched surfaces at home, work and school.
Vaccinate: Be sure to check immunization status of children for those diseases that can be prevented with vaccines.
Seek care:

 

Visit your health care provider when ill to get diagnosed and treated properly.