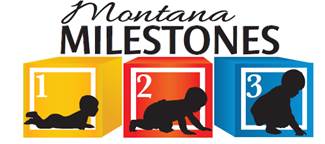 Montana Milestones Part C Early Intervention Program
Montana Milestones/Part C of the IDEA Early Intervention Program is Montana's comprehensive system of early intervention services and supports for families who have infants or toddlers, from birth through three who have significant developmental delays or disabilities or have been diagnosed with an established condition associated with significant delays in development.
Montana's eligibility criteria:
Type I Established Condition diagnosed by a physician or psychologist that is likely to result in a developmental delay or disability; or
Type II Measured Delay: Two or more 25% developmental delays in the five developmental domains or one 50% developmental delay in the five developmental domains.
Montana Milestones is funded through an annual federal grant under Part C of the Individuals with Disabilities Education Act (IDEA) and legislatively appropriated State General Fund dollars.
Make a Referral
 If you have questions about a child's development, an evaluation can be accessed at any time to determine whether the child may benefit from the services offered through Montana Milestone. A referral can be made directly by calling the Part C Coordinator at 406 444-5647 or downloading the referral form and submitting to the Part C Coordinator via FAX 406-444-2750.
To obtain information about early intervention, your rights and procedural safeguards, click on the video, "Let's Chat About Early Intervention."
Understanding the Procedural Safeguards for Families
Get Involved!
The Montana Family Support Services Advisory Council (FSSAC) serves as Montana's interagency coordinating council to advise and assist Montana's Part C Program to plan, develop, and implement Montana's comprehensive, multi-disciplinary, coordinated program of early intervention and family support services for children, age birth through two, with disabilities and their families.  For more information on the FSSAC, go to the Family Support Services Advisory Council page.
Montana Milestones and FES Programs Tele-Practice Guidance
Montana Milestones Provider Map
To find out more about
 

Montana Milestones or the FSSAC, please contact:
Sandy Cade, 
Early Intervention Supervisor
Early Childhood and Family Support Division
Department of Public Health and Human Services
Montana's Parent Training and Information Center
Montana Empowerment Center, Inc.
Montana Council on Developmental Disabilities