Norovirus

What is Norovirus?
Norovirus is the leading cause of vomiting and diarrhea from acute gastroenteritis (inflammation of the stomach and intestines) among people of all ages in the United States. It is a very contagious virus, and is sometimes call the "stomach flu" or "stomach bug". However, norovirus illness is not related to the flu, which is caused by influenza virus. There is no specific treatment for norovirus and most individuals recover in 1 to 3 days. The illness can last longer and be more severe in young children, older persons, or persons who have other health conditions.
Each year in the United States, norovirus causes on average: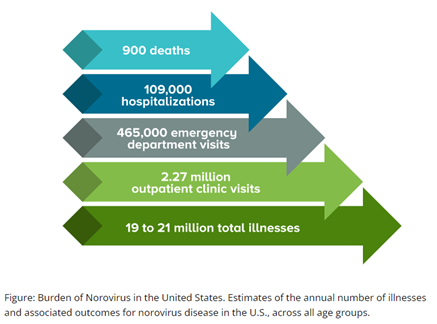 What You Need to Know
The virus is highly contagious and can spread rapidly. A person can become ill by ingesting the virus from contaminated food or water or by close contact with someone who is ill. Touching surfaces or objects that are contaminated with norovirus, and then transferring the virus hand to mouth is another common way of becoming infected.
Norovirus is very contagious, but you can take steps to stop it from spreading. Follow the tips below to prevent the spread of norovirus:
Practice proper hand hygiene: Wash your hands carefully with soap and water, especially after using the bathroom or changing diapers, and always before eating or preparing food. Hand sanitizer does not work well against norovirus.
Take care in the kitchen: Carefully wash fruits and vegetables, and cook oysters and other shellfish thoroughly to an internal temperature of at least 145°F before eating them.
Avoid preparing food for others while ill: People who are infected with norovirus should not prepare food for others while they have symptoms and for at least 2 days (48 hours) after they recover from their illness.
Clean and disinfect contaminated surfaces: After an episode of illness, such as vomiting or diarrhea, immediately clean and disinfect contaminated surfaces by using a bleach-based household cleaner as directed on the product label or a solution made by adding 5–25 tablespoons of household bleach to 1 gallon of water (based on 5.25% bleach concentration).
Wash laundry thoroughly: Immediately remove clothing or linens that may be contaminated with vomit or fecal matter and wash with detergent at the maximum available cycle length, then machine dry. Handle soiled items carefully—without agitating them—to avoid spreading virus.
Norovirus in Montana
Norovirus is the most common cause of acute gastroenteritis in the United States, including Montana. About 87% of all gastroenteritis outbreaks are caused by norovirus, and 51% are laboratory confirmed. The greatest burden of these outbreaks affects congregate care settings (64%), such as nursing homes and assisted living facilities, where vulnerable populations reside close together.
Similar to influenza, norovirus illnesses and associated outbreaks often occur during the winter season. In fact, most norovirus outbreaks in Montana are reported from November through May. Norovirus outbreaks are reportable, and when laboratory samples are available, they are tested to search for any new strains as those can have a more severe impact on the general population. A new strain of norovirus emerged in March 2012 and has been the predominant strain in Montana and worldwide since then.
Resources