Hantavirus Infection and Hantavirus Pulmonary Syndrome (HPS)
What is Hantavirus?
Hantaviruses are a family of viruses found worldwide spread primarily by the urine, droppings, and saliva of rodents. The first recognition of hantavirus occurred in 1931 in northeast China. In 1993, an outbreak of hantavirus cardiopulmonary syndrome (HCPS), then unrecognized, occurred in the Four Corners region of the United States and led to the discovery of the Sin Nombre orthohantavirus.
In Montana, hantavirus is primarily spread by deer mice but can also be spread by the white-footed mouse in eastern Montana. Someone exposed to hantavirus might develop hantavirus infection which could progress to a severe disease called hantavirus pulmonary syndrome (HPS). Learn more about hantavirus infection below in our resources section with the Hantavirus Fact Sheet and ways to prevent infection in our Hantavirus Prevention Sheet. 
Hantavirus in Montana 
Hantavirus pulmonary syndrome (HPS) became a notifiable condition in the United States in 1993. Less severe forms of hantavirus infection may occur where individuals do not develop HPS. To accurately capture the burden of hantavirus infections in the United States, hantavirus infections that do not result in HPS (non-HPS hantavirus infections) became notifiable in 2016. Montana has reported 46 cases of hantavirus infection since 1993 (figure 1). The average age of individuals infected with hantavirus in Montana is 41 years-old (range 8-65 years-old, median age of 45 years).
Figure 1. Reported Hantavirus Cases in Montana by County of Residence, 1993-2023 (n=46)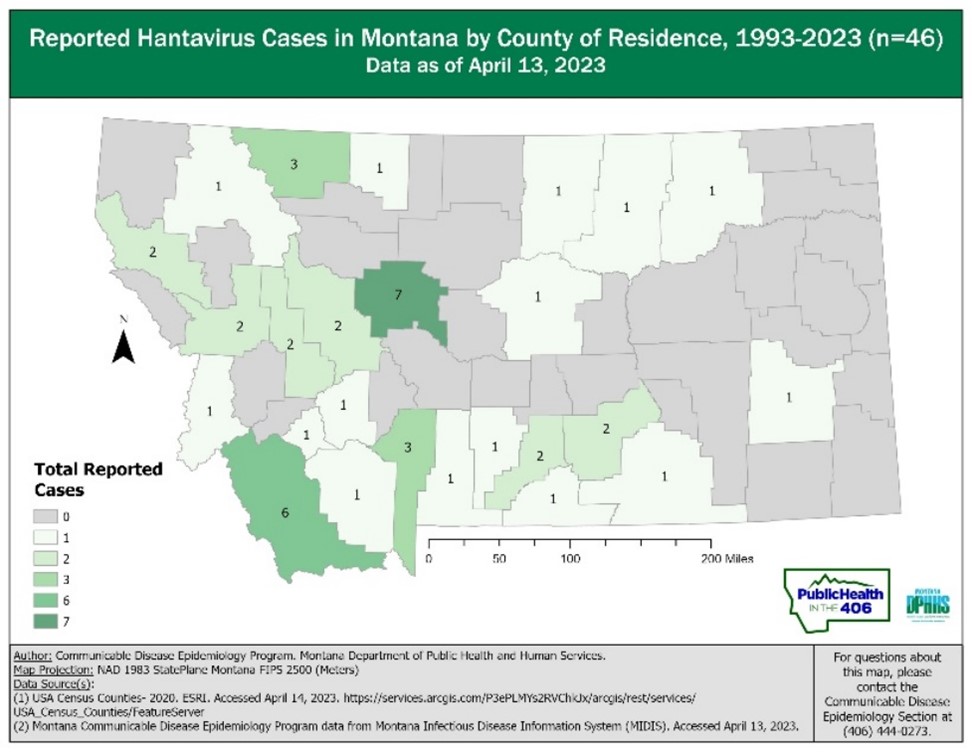 Since 1993, Montana has reported 11 total deaths due to hantavirus infection (figure 2). 
Figure 2. Reported Hantavirus Deaths in Montana, 1993-2023 (n=11)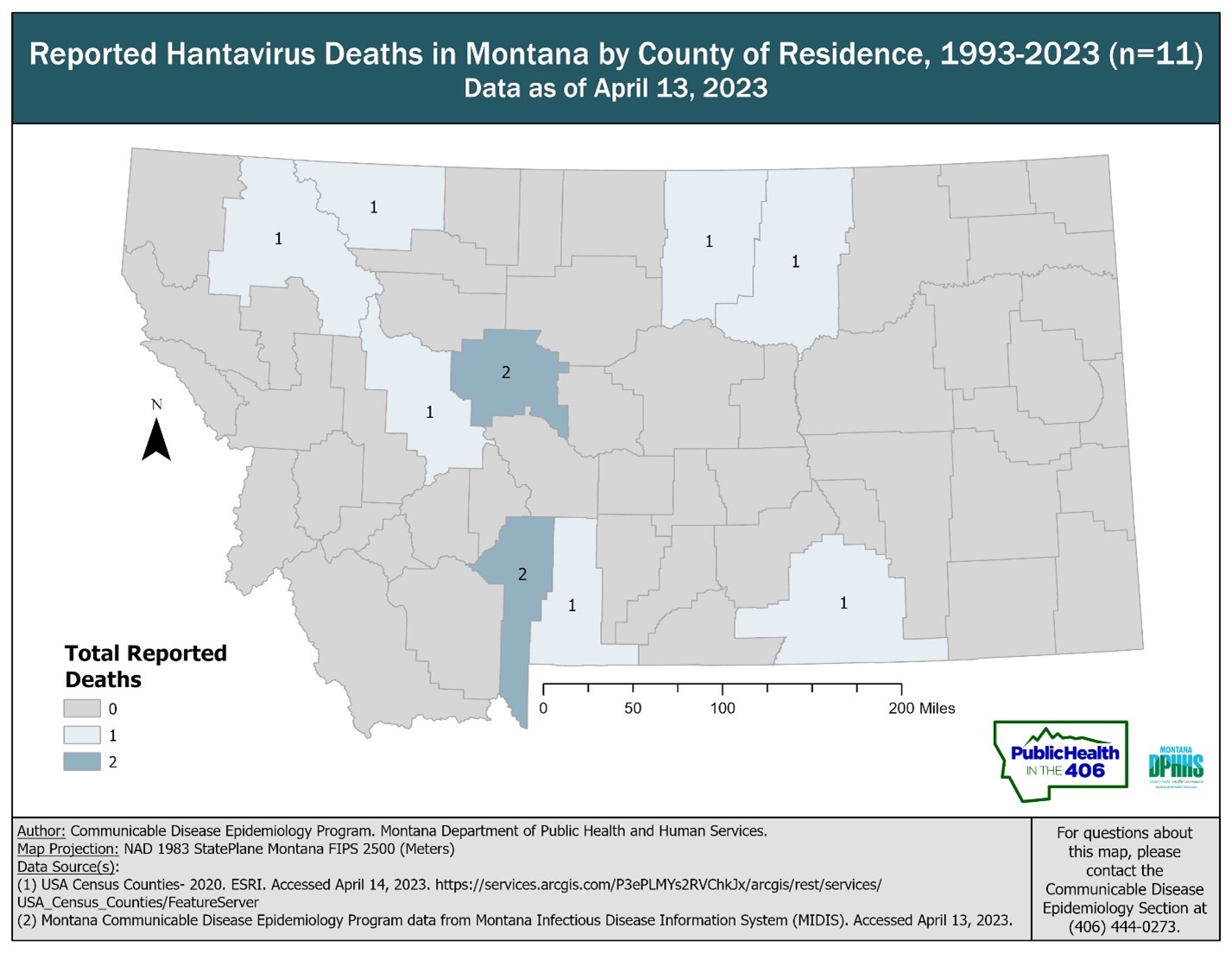 Reported cases and deaths by year tends to vary, and Montana has experienced numerous years where zero cases were reported (figure 3). 
Figure 3. Hantavirus Cases by Disease Outcome, Montana, 1993-2023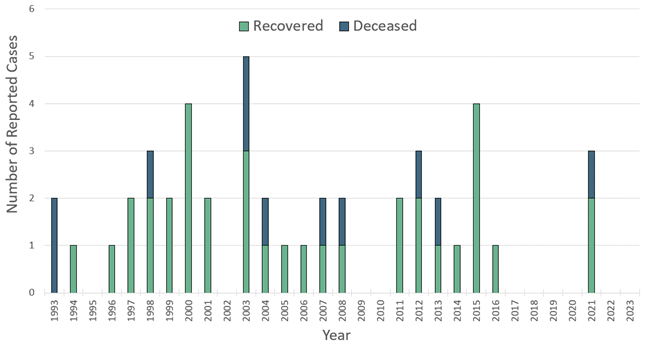 Since 2016, four cases of hantavirus infection have been reported in Montana (Table 1), three are classified as non-HPS and one is classified as having progressed to HPS.
Table 1. Case Classification of Reported Hantavirus Cases in Montana, 2016-2023 (n=4)
Case Classification of Reported Hantavirus Cases in Montana

| | |
| --- | --- |
| Case Classification | Count of Reported Cases |
| Hantavirus Infection (Non-HPS) | 3 |
| Hantavirus Pulmonary Syndrome (HPS) | 1 |
Montana Public Health Lab (MTPHL) performs screening tests for hantavirus infection. Confirmatory testing performed at the CDC is completed if an individual tests positive on a screening test. MTPHL has performed hantavirus testing on 414 specimens since October of 2018 (figure 4). Out of 414 specimens, 14 (3%) had a positive screening result, but confirmatory testing indicated that the patient was negative for hantavirus infection. 5 (1%) specimens have been confirmed positive for hantavirus infection at the CDC.
Figure 4. Hantavirus Testing in Montana, October 2018-March 2023 (n=414)
Resources