School Nurse Political and Advocacy Efforts
The school nurse is an advocate, promoting health, safety, and quality of care.
Keeping children safe, healthy, in school and ready to learn should be a top priority for both healthcare and educational systems. Since all American children aged 5 years and older must attend school, the school system provides an excellent opportunity to promote health in children. The registered, professional school nurse is the expert in the school to meet student health needs.
Definition of School Nursing
School nursing, a specialized practice of nursing, protects and promotes student health, facilitates optimal development, and advances academic success. School nurses, grounded in ethical and evidence-based practice, are the leaders who bridge health care and education, provide care coordination, advocate for quality student-centered care, and collaborate to design systems that allow individuals and communities to develop their full potential.
-Adopted by the NASN Board of Directors
February 2017
Because the registered, professional school nurse has an educational background in and understanding of the art and science of nursing, concepts of growth and development, and the concerns of students with special needs, he or she is able to plan and provide care based on the nursing process. The school nurse uses current evidence-based nursing knowledge, including research findings, to guide practice and develop policies. Integrating ethical provisions in all areas of practice, the school nurse leads in delivering care that preserves and protects client autonomy, dignity, privacy, and other rights sensitive to diversity in the school setting. Based on professional knowledge and public health perspective, the school nurse provides a safe and healthy school environment through the prevention and control of infectious disease, including promotion of vaccines, implementation of school wide infection control measures, as well as disease surveillance and reporting. Immunization compliance is much greater in schools with nurses than in schools without nurses. The school nurse promotes safety by participating in the development of school safety plans to address bullying, school violence, and the full range of emergency incidents that may occur at school Registered nurses firmly believe it is their obligation to help improve issues related to healthcare, consumer care, health, and wellness. As an advocate for the Whole Child, school nurses must address issues such as child abuse/neglect; domestic and school violence; mental health issues including suicide and alcohol, tobacco, and other drug use; adolescent pregnancy and parenting; lack of health insurance; homelessness; poverty; and hunger. Legislation to Allow Schools to Maintain a Stock Supply of Injectable Epinephrine to Be Used in an Emergency
In 2013, the Montana Association of school nurses created a bill that allows schools to stock injectable epinephrine on site and to train staff in administration of this life-saving emergency medication. The bill passed in the 63rd Montana Legislature and became law in July, 2014. School nurses then led the implementation of the bill in their school districts, developing protocols for epinephrine administration, teaching school staff members when and how to deliver the drug, and evaluating the process. Read the law SB-165 here.
---
The State of School Nursing in Montana:
A Comprehensive Survey of School Health Services
In 2015, the Montana Association of School Nurses completed an in-depth study of school nursing in Montana as a follow-up to studies done in 2009 and 2012. The results of the 2015 and 2018 research are summarized below. Access the entire 2015 study on the MASN website.
In 2008, the Montana Association of School Nurses (MASN) began a grass roots campaign to establish a ratio of one registered, professional school nurse to every 750 students in Montana. As this ratio is the national standard, MASN conducted a survey of school nurses in Montana to identify the nurse to student ratio in Montana as 1 RN school nurse to 2300 students. This ratio ranked Montana #45 of 50 states in the country. In addition, 19 of 56 counties had no school nursing services at all.
Montana School Nurses, acutely aware that healthy students achieve greater success in the classroom, have since advocated mightily for the increased presence of school nurses in every Montana school. This current survey done in the spring of 2018 has been designed to identify the current ratios of nurse to students in Montana and to compare the data from 2008-2015. All surveys were conducted and data was collected in its entirety by the Montana Association of School Nurses. DPHHS assisted with data analysis interpretation. The data is complete in all 56 counties, in 100% of school districts, and accounts for every nursing hour/year currently being provided.
The map (below) was created to identify the school nurse-to-student ratio in all counties of Montana.
In 2018, data indicates a school nurse to student ratio of 1 RN school nurse to 1517 students. This is an improvement from 2015, when the ratio in Montana was 1 RN school nurse to 1,728 students, in 2012, when the ratio in Montana was 1 RN school nurse to 1,985, and in 2009 when the ratio was 1 nurse to 2300 students. Unfortunately, at this time, 45% of Montana's 56 counties have no school nursing services. 96% of Montana students have no RN school nurse or have too few school nurses in their county and 29% of Montana students have no school nurse in their entire school district.
There is an evidence-based relationship between health and learning. School districts with school nurses have fewer student absences, decreased dropout rates, and increased graduation rates. School nurses make a difference.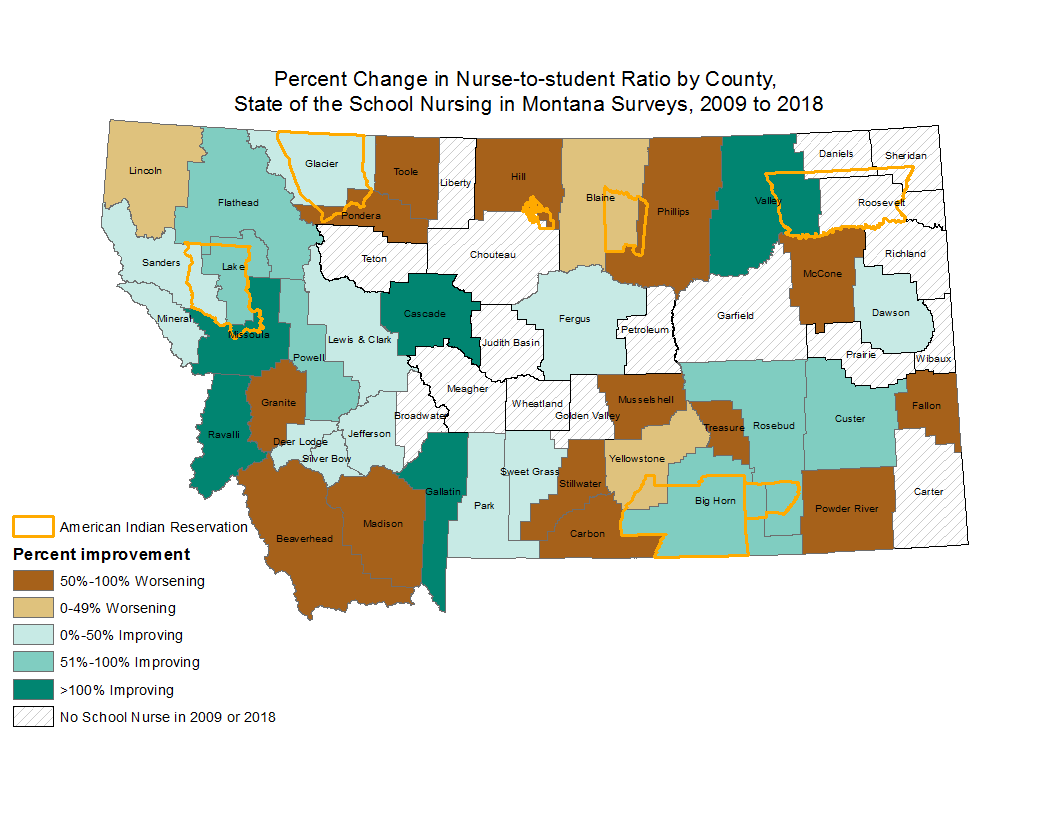 Access the State of School Nursing in Montana: A survey of School Health Services 2015 in its entirety.
---
Montana school nurses in San Antonio, Texas, accepted the National Association of School Nurses' President's Recognition Award for Advocacy in June, 2014.
This work to identify Montana's deficiencies in school health services directly influenced Senator Jon Tester to propose the NURSE Act – Nurses for Under-Resourced Schools Everywhere, for which the Montana Association of School Nurses won the President's a Recognition Award from the National Association of School Nurses in 2014.
The NURSE Act – Nurses for Under-Resourced Schools Everywhere Act
The NURSE Act was introduced into the United States Senate on May 7, 2014 – National School Nurse Day by Senator Jon tester of Montana and co-sponsored by Senator Robert P. Casey of Pennsylvania. The bill calls for implementation of competitive grant programs to reduce the ratio of students to school nurses throughout the United States. The legislation would use federal, state, and local funding to increase the number of registered, professional school nurses in each state. The bill is currently being amended as of March, 2015, and will be re-introduced at a later date. Read the full NURSE Act.
---
Further information about school nurse political and advocacy efforts may be found at:
Montana Association of School Nurses- https://masn.nursingnetwork.com/
National Association of School Nurses- nasn.org/