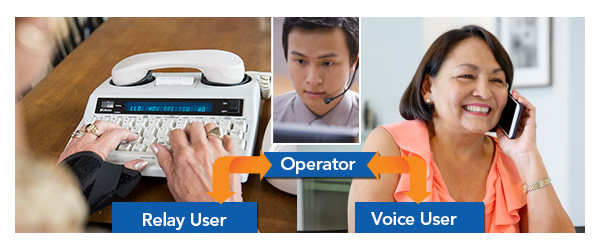 Traditional Relay Service (TTY)
Traditional Relay Service from Montana Relay allows those who are deaf, hard of hearing, or have difficulty speaking to make and receive calls using a text telephone (TTY). A TTY has a keyboard, which allows the user to type his/her side of the conversation, and a text screen to read the other person's responses.
How TTY Works
The TTY user types his/her side of the conversation on the TTY's keyboard.
A Montana Relay Communications Assistant (CA) voices the TTY user's text to the other person.
As the other person speaks in response, the CA types the spoken words, which the TTY user reads on his/her TTY text screen.
A Reliable and Secure Solution
Montana Relay CAs have been specially trained to handle Relay calls. They communicate the typed and spoken words exactly as given and maintain absolute confidentiality about any conversation. Our CAs do not participate in conversations. Instead, they relay the words between both parties as if the CA is not there. The CAs also will type background noises and voice inflections for the TTY user, making the call more natural and realistic.
Instructions for Making a TTY Call
Dial 7-1-1 to make a TTY call.
You will be asked for the number you want to call. Don't forget to include the area code.
The CA will offer the person receiving the call an explanation of Relay calls, if that person is a standard telephone user.
Once you begin your conversation, type or say "Go Ahead" or "GA" for short when you have completed a thought. This signals to the other person that it is his/her turn to respond.
Apply Now for a TTY
You could qualify for a TTY at no cost to you through the Montana Telecommunications Access Program (MTAP). Learn more about TTY qualifications
More Calling Options
Montana Relay and MTAP understand that telecommunications technology is always changing, and we are proud to bring new advancements to you as they are made.  Please visit Other Relay Services for additional calling options, or contact our office for more information.