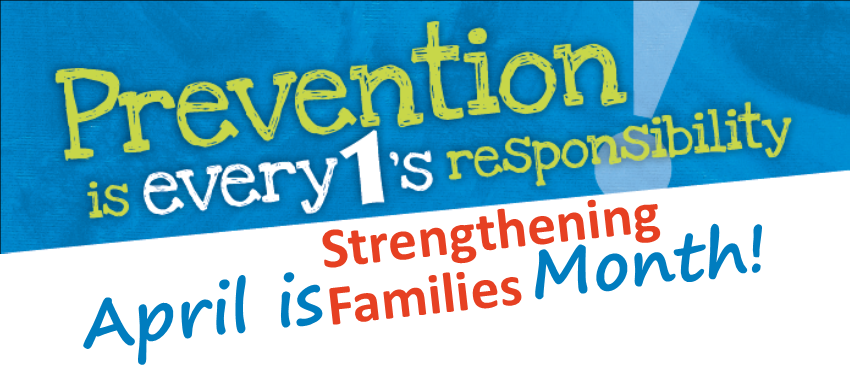 Strengthening Families Month 2022
April is Strengthening Families Month. Join us to promote the safety and well-being of Montana's kids and the value of child abuse prevention. Programs throughout Montana are hosting activities to help strengthen families during the month of April. Please check with your local health department for COVID-19 safety guidelines. 
Please fill out the form at the bottom of the page if your organization would like to request free promotional materials to support Strengthening Families Month activities.
Add your organization's events to the statewide calendar. 
Use the hashtags on social media: #GoBlue #StrongFamilies #SafeKids #GrowingBetterTogether #CAPM
Go Blue all month long! Show your support of Montana families and prevention efforts by wearing blue throughout April! Share your selfies on

 

Facebook and Instagram using #GoBlue #StrongFamilies #SafeKids #GrowingBetterTogether #CAPM.  

Pinwheels For Prevention will be displayed around the Capitol Building lawn from April 4 through April 17, weather permitting. Strengthen the campaign by planting or creating your own pinwheel display. Pinwheels for Prevention messaging must remain positive around happy, health childhoods. They must not be used to represent children who have been abused or neglected. 

Nominate a champion of Montana's children and families for a Montana Children's Trust Fund Award by March 4. Fill out the nomination form and send to Sandy Cade. 
Color Pinwheels or Make Pinwheels: Organize a scavenger hunt by encouraging the community to put them in their windows and encouraging families to find them.
Attend the virtual Montana Prevent Child Abuse & Neglect Conference on April 12-14. Information about the conference will be posted soon

. 

Encourage your church to participate in 

Blue Sunday

 on April 26, 2022. Activities may include:

Include Blue Sunday in your service with a theme of strengthening families to honor victims of child abuse and neglect and those who protect them. 
Take up a collection for CTF to help strengthen families across Montana. 
Color Pinwheels or Make Pinwheels: Display them at your church or throughout your community.
Post a calendar of family-friendly activities available in your community.
Host a get-together for local families. You could still host a virtual event such as a Facebook Café, fun ideas for families at home, or live streaming uplifting videos.
Train staff and volunteers how to prevent, recognize, and report child abuse and neglect. Contact us for information regarding trainers in your community.
Register with CarePortal to connect children and families in your community to their needs.

Visit the National Child Abuse Prevention Month website to find useful resources:

2021/2022 Prevention Resource Guide - learn how to strengthen families using the Protective Factors
Tip sheets- give to parents and caregivers.
View the prevention multimedia gallery and share the videos via email and social media to raise awareness among your networks. You can also check out the Building Community, Building Hope series, which was developed to support the theme of the 20th National Conference on Child Abuse and Neglect.
Help raise public awareness about child abuse prevention and child well-being in your community. Spread the word, create interest, and urge those in your network to get involved! These outreach tools can support your outreach and social media.
Promotional Materials Request Form:
Note: By submitting a request, you agree to share your event and/or Go Blue photos with the MT Children's Trust Fund, as well as post them on Facebook and/or Instagram using #GoBlue #StrongFamilies #SafeKids #GrowingBetterTogether and tagging MT Children's Trust Fund @mtchildrenstrust. If you receive pinwheels, you also agree to post signage stating the pinwheels are sponsored by MT Children's Trust Fund and Blue Cross Blue Shield of MT. Strengthening Families Month Activities must follow state and local guidelines for COVID-19. Please check with your local health department about current safety protocols and procedures. 
Strengthening Families Month 2021 activities sponsored by: