The Montana Asthma Advisory Group
The Montana Asthma Advisory Group, or MAAG, is a diverse team of stakeholders representing more than 25 agencies from across the state who meet regularly to provide guidance and advice on asthma control efforts statewide. Our mission is to foster partnerships to improve asthma management, enhance quality of life, reduce disparities and prevent asthma-related deaths. The Montana Asthma Control Program is always looking for new advisory group members. No special credentials are needed to join, just an interest in asthma.
Please complete this online form to sign up for the MAAG today.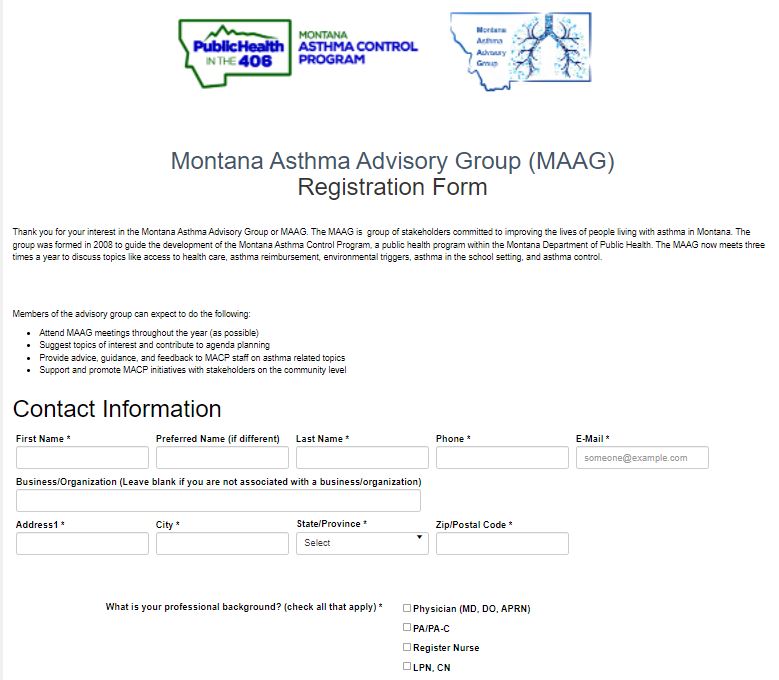 Sign-up for the MAAG by clicking the image above or access the form here.


Next MAAG Meeting 
When: September 7th, 2023 
Where: Helena, MT / Zoom Call-In
---
Materials from past meetings
Below are minutes from previous advisory group meetings.  Inquire about meeting materials at asthmainfo@mt.gov. Agendas from 2019 and older are archived, and can be provided upon request.
May 24th, 2023 
January 19, 2023
September 8, 2022

May 6, 2022
January 13, 2022
September 9, 2021